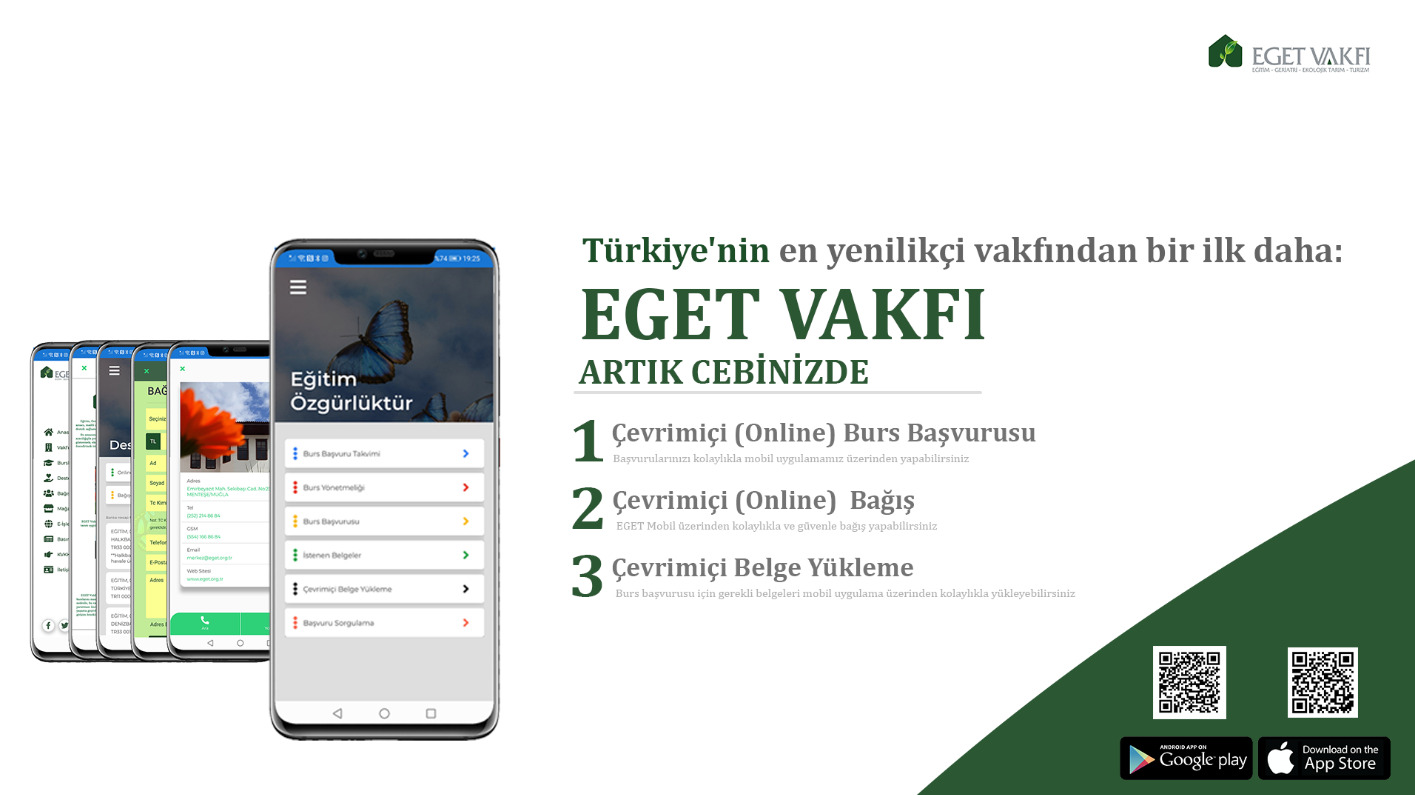 EGET FOUNDATION SCHOLARSHIPS
One of the most important foundation purposes of the EGET Foundation is to provide scholarships to university students who have financial difficulties while studying.
Our most important goal in providing scholarships to students in need is to serve the cultural, scientific and social development of the society. Because, we know that the indispensable universal values of modern civilization are human rights, secularism, republic and democracy principles; respectful to nature and environment; able to be individual, productive, creative, entrepreneur; Determined to be beneficial to his country and humanity; It means contributing to the development of our country to raise individuals who are self-confident, have moral values, disciplined, can think universally and are willing to improve themselves.
EGET Foundation scholarship applications and evaluation process are carried out in a completely digital environment. Every year, within the framework of the Scholarship Application Calendar determined by our Education and Scholarship Commission, students can apply for EGET Foundation scholarships by completing the scholarship application form online, which is accessible on our website.
The process of evaluating scholarship applications is carried out objectively in a completely digital environment. The software called BUSED, developed by our foundation, determines the students listed within the framework of the answers given by the students. After the completion of the first stage, the documents uploaded to our system by the members of the Education and Scholarship Committee to prove the status of the candidates who pass the pre-evaluation are carefully examined and the students who will move to the next stage are determined. Following this second assessment, eligible candidates are invited for a virtual face-to-face interview. After the interview scores are entered into BUSED, the candidates who will be eligible for EGET Foundation scholarships are determined.
EGET Foundation scholarship for each student studying at the undergraduate level at a state university in Turkey may apply. For intermediate students, having a GPA of at least 2.5 and not receiving any scholarship from any institution other than KYK is also one of our scholarship application conditions.
EGET Foundation scholarships are not free of charge. In order to ensure the sustainability of the scholarships, students who will benefit from EGET Foundation scholarships agree to donate the amount of the scholarship they receive to the EGET Foundation during the period they receive, starting six months after their school ends and starting to work.
One of the continuation conditions for the students who started to receive scholarship from EGET Foundation is to document that they work in a social responsibility project three days a year without any payment. The purpose of this condition is to develop students' awareness of social responsibility and to mediate the development of social service responsibility in students.