LAVENDERS TURNING INTO SCHOLARSHIP HAVE BEEN HARVESTED
News Author: Hayrettin Şaşmaz
Lavender cultivation, which EGET started to provide scholarships to students, turned into domestic raw materials and became a cosmetic brand. Mugla based foundation wrote a success story in social enterprise giving all of its income as scholarships to students.
The Education, Geriatrics Ecological Agriculture and Tourism (EGET) Foundation, which has realized the first lavender production of the coastal regions, has completed the lavender harvest for the fifth time in Armutçuk Agricultural Enterprise. The harvest festival was held with the participation of volunteers, as it is every year, in a cooperative manner.
Lavender seedlings were harvested with sickles so that their oil would be pure and of high quality preventing them to be affected by exhaust gas. Thus, a higher quality lavender oil will be obtained from the lavender to be distilled. Beyond proving that lavender can be grown in coastal cities, EGET Foundation also contributes to awareness in this field by producing lavender oil localy which is among the products imported by Turkey.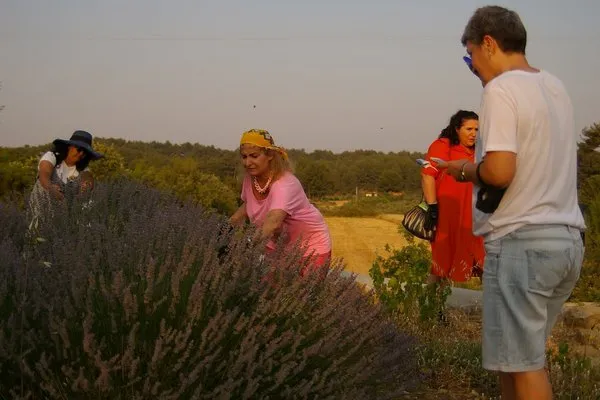 "MUGLA HAS A COSMETIC BRAND"
EGET Foundation Chairman of the Board of Trustees Safai Özer reminded that the foundation allocates all its income to grant scholarships to low-income university students and said, "We put our lavenders we grow to good use in many ways. In our activity, which we started with the sale of lavender seedlings, our main goal was to produce products with higher added value. Mugla We had lavender oil produced in the distillation facilities established by the Metropolitan Municipality. Our country is an importer of almost all plant oils, especially lavender. While thinking about how to evaluate lavender oil, we developed lavender-based cosmetic products. This is how the EGET TEN brand was born. Muğla is not just a tourism, agricultural city. Muğla also has a cosmetics brand and it gives hope to low-income students and provides a benefit that Muğla residents can be proud of: Scholarships are provided to low-income students, just like EGET's other activities."
Özlem Uzman, one of the Founders of the Foundation and the Chairman of the Board of Directors, underlined that all the income of the Foundation has turned into educational scholarships and said: "For the fifth time, we have harvested lavender together with good and sensitive people. Thank you very much to everyone. EGET Foundation puts all its focus on all kinds of We are a foundation that dedicates its income to scholarships to low-income students.We are only 6 years old, but we have managed to provide scholarships to 111 students as of 2020, faster than foundations with a much older history. We sell our lavender as seedlings and in pots, wholesale and retail. In addition, we produce lavender-based cosmetic products from shampoo to tonic, from solid and liquid soap to cream, from cologne to face wash gel with the lavender oil and water we obtain.All of these products are produced under the supervision of the TR Ministry of Health.Our initiatives help our country's companies, farmers, cooperatives and local sets an example for their governments. resulted in loss of income for many households. More students than ever before are at risk of being cut off from education or unable to attend the schools they earn due to lack of income. We are working to reach more students. In this context, the young people of our country need the donations of sensitive citizens even more."
EGET Foundation has started the scholarship program with its own capital since its establishment and without any income yet. With the funding of the foundation's founders, a computer program was created for the first time in Turkey to evaluate and rank scholarship applications completely objectively. The Foundation selects the young people to whom it will grant scholarships through this program, and they are asked to document their statements during the application phase.